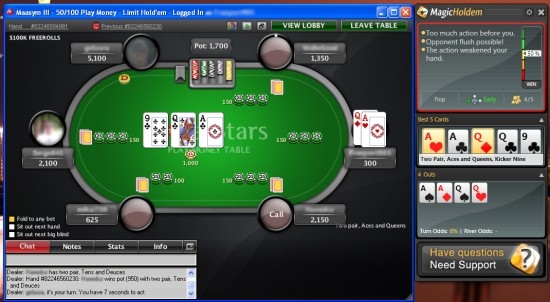 Players wishing to play poker like pros may sometimes need some help, especially with the mathematics behind the cards. Specifically for this reason, the poker world has created the poker odds calculator. This is a review of one of the most advanced and innovative calculators on the market: Magic Holdem Poker odds Calculator. This particular app calculates poker odds in real time and during the entire hand. One of its unique features is that you don't even have to move your mouse for the calculations. MagicHoldem automatically connects to the poker room of your choice and does the work for you.
The structure of this application is very simple and clear - no frills, just clear information, presented in four windows.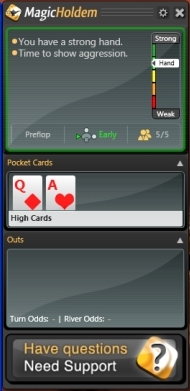 The first and main window presents a hand probability indicator, showing you the strength of your starting, preflop, hands. From the flop onwards, the indicator shows you in real time what your chances of winning are if you play all the way to the showdown. There is also a color indicator, which is a border around the active field. The color gives you an idea of how you should play the hand. In addition, the window includes some hints and useful information about the game: you see the specific stage of the game (in pre-flop, flop, turn or river) and your position relative to the other players.
The second window is a status indicator of the cards in the game. The window also shows you the best five-card hand and a description of your hand.
The third window calculates your outs. That is, the cards you can use in your hand and the chances for these cards to appear in the game. The window will show negative Odds (in case of cards that enhance the hand of your opponents) or good odds (cards that set you on the top).
The fourth window presents additional information that will help you keep your bankroll. The poker odds calculator shows you the best tables in cash games, Sit & Go or Scheduled Tournaments. Whenever you venture on to high stakes, the app reminds you of your bankroll.
The conclusion of our review is clear: The Magic Holdem Poker Calculator is an ideal and complete solution for all poker professionals and those who aspire to be.